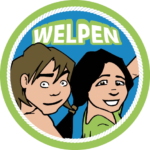 Is uw zoon of dochter 7 tot 10 jaar oud? Dan kan hij of zij welp worden! De welpen ondernemen allerlei leuke activiteiten waaronder speurtochten, knutselen en gezellige weekenden en een zomerkamp.

Kinderen van 7 tot 10 jaar oud worden 'welpen' genoemd bij Scouting. Zij ondernemen sport, spel, creatieve en actieve activiteiten in het Junglebook thema waarbij ze verschillende vaardigheden ontwikkelen. Twee keer per jaar gaan zij een weekendje weg naar een blokhut of kampeerterrein in de regio en jaarlijks gaan ze een hele week op zomerkamp.
De welpen hebben elke zaterdagochtend opkomst van 9:30 tot 12:00 uur op de begane grond van Het Reigersnest.
De welpen-groep is erg populair en zit momenteel dan ook vol. U kunt uw kind vrijblijvend inschrijven voor de wachtlijst. Meer informatie hierover leest u hier. Wij zijn op zoek naar extra leiding om de groep te kunnen uitbreiden.