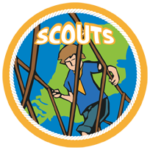 Ben jij tussen de 11 en 15 jaar en wil je actieve dingen doen met een leuke groep? Word dan scout! De scouts doen het hele jaar door afwisselende activiteiten zoals verschillende kampen, puzzeltochten, kampvuur maken en pionieren. Elke week staat er weer iets anders op het programma.
Tieners van 11 tot en met 15 jaar worden 'scouts' genoemd bij Scouting. Zij houden zich bezig met verschillende activiteiten als sport, spel, speurtochten, pionieren en creatief bezig zijn. Meerdere keren per jaar gaan zij een weekendje weg en in de zomervakantie gaan ze een hele week op zomerkamp.
De scouts hebben elke zaterdagochtend opkomst van 9:30 tot 12:00 uur op de 1e verdieping van het Reigersnest.
Wil je een opkomst mee doen of heb je vragen over de scouts? Neem dan contact met ons op via het contactformulier of bel leiding Kim tussen 17:00 en 20:00 uur op nummer 06 283 312 12.