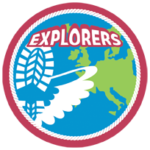 Ben jij tussen de 15 en 18 jaar en wil jij je eigen plannen maken? Word dan explorer! De explorers organiseren hun eigen activiteiten zoals een expeditie in binnen of buitenland. Ga zwerven in Zweden, op kamp in Luxemburg of zeilen in Zeeland. Ook organiseren ze spectaculaire evenementen en uitdagende outdooractiviteiten.
De jongeren van 15 tot en met 18 jaar worden 'explorers' genoemd bij Scouting. Zij organiseren hun eigen activiteiten en maken hun eigen programma. Zo leren ze om te gaan met verantwoordelijkheden en worden ze zelfstandig. Zelfs buitenlandse reizen kunnen deel uitmaken van het afwisselende programma.
De explorers hebben elke vrijdagavond opkomst van 19:00 tot 22:00 uur op de 1e verdieping van het Reigersnest.
Op dit moment zijn we op zoek naar extra begeleiding voor de Explorers! Heb je ervaring met scouting en/of outdoor activiteiten, ben je 20 jaar of ouder en lijkt dit je een leuke bezigheid? Neem dan contact met ons op!
Wil je een opkomst mee doen of heb je vragen? Neem dan contact met ons op via het contactformulier.